Attracting the right people for your home builder or remodeler business is tough work, which is why we've created this one of a kind guide to help you establish your ideal customer and better market to that audience. Get your Buyer Persona Template you can print or fill out online.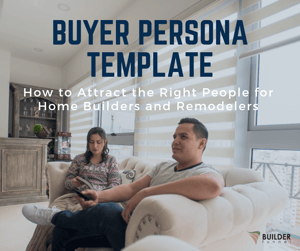 With This Free Buyer Persona Template Download, You'll:
Learn What a Buyer Persona is and Why You Need Them
Learn What Each Buyer Persona Section Means and What it Should Include
Get An Example Buyer Persona for Home Builders and Remodelers
Get 3 Buyer Persona Templates to Print or Fill Out Online
Fill out the form to get your templates and attract your ideal customer!